School & Community Outreach
Exciting Opportunities in Law-Related Education for the 2018-2019 School Year
Each year, the Alaska Court System works with legal organizations and educational groups to foster law-related education in our state. The Alaska Bar Association, the American Bar Association, the Anchorage Bar Association and other groups offer excellent educational programs that help students better understand our legal system and the rights and responsibilities of citizenship. Whether you are an educator, parent or student, we hope you will explore these opportunities for civic engagement and learning, which include iCivics, Supreme Court LIVE, Color of Justice, Law Day, and the Alaska High School Mock Trial Championships.
You can check here for updates, or contact Mara Rabinowitz, Communications Counsel, for more information at
mrabinowitz@akcourts.us or 907-264-0879.
Go to top of page | Return to Media & Community Resources | Return to Court Homepage
Color of Justice 2019
Upcoming Color of Justice Programs
The next Color of Justice Program is scheduled for September 26-27, 2019, in Anchorage.
Check here for more details as they become available.
Introduction
The Color of Justice program brings diverse youth from across the state together for exciting workshops and activities designed to introduce them to the study of law and to encourage them to consider legal and judicial careers.

Color of Justice 2018 high school program held at Mount Edgecumbe High School in Sitka.
Video produced by Mt. Edgecumbe School (hosted on YouTube)
On November 7-8, 2018, the Alaska Court System, Mount Edgecumbe High School, and Sitka Bar Association hosted the Color of Justice program. Color of Justice is a law-related education program founded by the National Association of Women Judges designed to promote diversity in the legal profession and judiciary by encouraging diverse youth to consider careers as lawyers and judges. Over 90 students from 51 communities and villages across the state participated in two days of workshops and other activities presented by representatives from Gonzaga University School of Law, Seattle University School of Law, University of Washington School of Law, and lawyers and judges from the Alaska Court System, as well as judges from the Sitka Tribe of Alaska.
Color of Justice sessions included "MentorJet: A Speed Mentoring Experience," where students met with a variety of lawyers, judges, and justices. "Constitutional Cranium," a quiz show on constitutional knowledge, a "You be the Judge" program, and a new program called Legal Monopoly.
Increasing diversity on the bench is important to fostering public trust and confidence in our justice system, according to Justice Susan Carney who participated in the program this year - Color of Justice serves this goal, she says, by reminding young people that our justice system must be made up of all parts of our community so that people will have confidence in it.
Judge Jude M. Pate, who chaired the Sitka program this year, also remarked that "the Mt. Edgecumbe students in this year's program were extremely intelligent and engaging. They give me confidence that Alaska will have creative and compassionate leaders in the future."
Color of Justice Video (hosted on YouTube)
Questions? Contact Mara Rabinowitz at 907-264-0879 or Margaret Newman at 907-264-0864.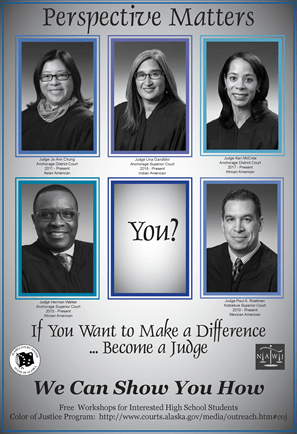 Sponsored by:
National Association of Women Judges
Alaska Bar Association
Alaska Court System
Alaska Federation of Natives
Alaska Native Justice Center
Anchorage School District
Cook Inlet Region, Inc.
Council on Legal Education Opportunity
Gonzaga University School of Law
Law School Admission Council
Northwest Indian Bar Association
Perkins Coie LLP
Rotary Club of Anchorage East
Seattle University School of Law
University of Alaska Anchorage
University of Washington School of Law
Go to top of page | Return to Media & Community Resources | Return to Court Homepage
iCIVICS

Learn about your government…the fun way!
www.icivics.org
Alaska's Supreme Court Justice Dana Fabe invites Alaska's young people to learn about the rights and responsibilities of citizenship the fun and effective way, through a new online program available for FREE at www.icivics.org. iCivics is a new web-based education project founded by U.S. Supreme Court Justice Sandra Day O'Connor (Ret.) to teach students civics and inspire them to be active participants in our democracy. Alaskan educators and their students are encouraged to visit the website and check out the games, web quests and other great resources for civic learning. If you would like to have a judge or attorney visit your classrooms to present an iCivics activity, please contact the Clerk of Court at the courthouse nearest you or the court's statewide Judicial Outreach Mara Rabinowitz, at 907-264-0879 or mrabinowitz@akcourts.us.
| | |
| --- | --- |
| | |
| Chief Justice Fabe visited Romig Middle School in October 2013 to talk with students about iCivics. | She also worked with the students as they played interactive iCivics games online. |
Go to top of page | Return to Media & Community Resources | Return to Court Homepage
"Justice For All" Art Contest
The "Justice for All" Art Contest asked students to submit two-dimensional artworks on the theme "Fairness, Diversity, Equality: Our justice system depends on them. What do they mean to you?" The contest received entries from K-8 students from all across Alaska. Finalists were selected by members of the court system's appellate staff, representatives from the Alaska Bar Association's Law-Related Education Committee, and members of the Alaska Supreme Court's Fairness, Diversity & Equality Committee and Access to Civil Justice Committee. The contest sponsors would like to extend special thanks to Perkins Coie LLC for donating the contest prizes. We also wish to congratulate the contest winners, and to thank all of the entrants for their wonderful works of art, which inspire us to ensure that fairness, diversity and equality continue to be vital values of our justice system.
First Prize, Category Grades K - 4: Aaron Hadfield, Grade 3, Connections Home School Program, Soldotna
Artist's Statement

First Prize, Category Grades 5 - 8: Angela Shen, Grade 7, Northern Lights ABC School, Anchorage
Artist's Statement
Go to top of page | Return to Media & Community Resources | Return to Court Homepage
Law Day 2019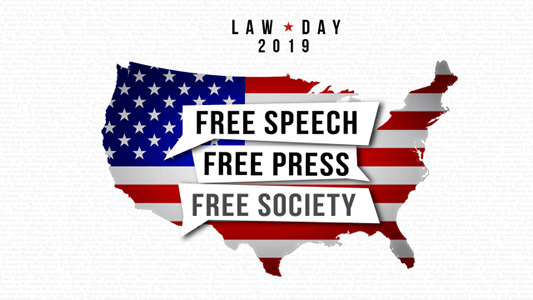 Law Day, which is celebrated every year on May 1, is a special day focusing on our nation's heritage of liberty under the rule of law. This national day of celebration was officially designated by joint resolution of Congress in 1961. The 2019 theme - Free Speech, Free Press, Free Society - focuses on these cornerstones of representative government and calls on us to understand and protect these rights to ensure, as the U.S. Constitution proposes, "the blessings of liberty for ourselves and our posterity."
In the United States and around the world, freedom of speech and the press are among the most important foundations for a free society. Free speech and free press are prominent topics in public discourse and litigation. It is impossible to imagine a free society without these individual liberties, yet historical and current debates surrounding them continually challenge us to consider their boundaries and resilience. Changes in technology have reshaped how free speech and free press work in the everyday world.
| | |
| --- | --- |
| | |
| The 2014 annual Law Day Luncheon featured the keynote address: Law-Related Education--New Frontiers in Community Education and Outreach for Alaska's State and Federal Judiciaries. The speakers were L-R: Ninth Circuit Court of Appeals Judge Morgan Christen, Chief Justice Dana Fabe, and U.S. District Court Chief Judge Ralph Beistline. | The 2015 Law Day Theme was "Magna Carta: Symbol and Freedom Under Law." The Keynote address was "Choosing Alaska's 'Tallest Timber' For the Judiciary: Theory and Practice," presented by Constitutional Convention Delegate Vic Fischer and Retired Justice Walter Carpeneti. |
For more information about Law Day in your community, contact your local clerk of court or the Area Court Administrator of your judicial district. Area Court Administrators are:
1st Judicial District (Southeast): Neil Nesheim, 463-4753
2nd District (Northern): Brodie Kimmel, 443-5216
3rd District (Southcentral): Carol McAllen, 264-0415
4th District (Interior & Southwest): Ron Woods, 452-9201
For more information about Law Day in general, visit the American Bar Association website at www.lawday.org.
Go to top of page | Return to Media & Community Resources | Return to Court Homepage
Supreme Court LIVE
Upcoming Supreme Court LIVE Programs
Anchorage West High School, February 26, 2019
Case Materials for Supreme Court LIVE in Anchorage
Introduction
Educational Materials
Case Materials
Go to top of page | Return to Media & Community Resources | Return to Court Homepage