School & Community Outreach
---
Color of Justice
Upcoming Programs
The next program will be held in April 2021 in Sitka. Details.
Introduction
The Color of Justice program brings diverse youth from across the state together for exciting workshops and activities designed to introduce them to the study of law and to encourage them to consider legal and judicial careers.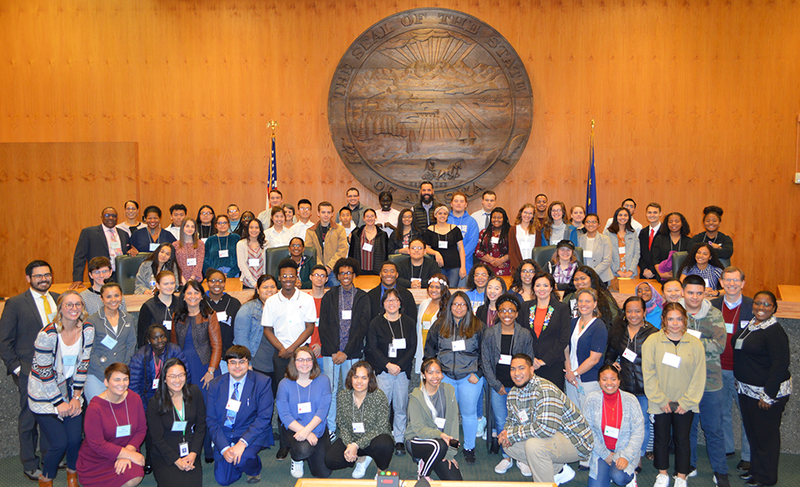 Color of Justice 2019 high school program held at the Boney Courthouse in Anchorage.
On October 3-4, 2019, the Alaska Court System hosted the 2019 Color of Justice program. Color of Justice is a law-related education program founded by the National Association of Women Judges (NAWJ). Introduced in Alaska over fifteen years ago, the program promotes diversity in the legal and judicial fields. It encourages women and youth of color to consider possible careers as lawyers and judges.
Students from high schools across Anchorage were invited to participate in two days of workshops and other activities presented by representatives from Gonzaga University School of Law, Seattle University School of Law, and University of Washington School of Law. The program is also supported by the Alaska Bar Association, the Alaska Federation of Natives, and the Alaska Native Justice Center. The two-day program took place at the Boney Courthouse in the Supreme Court Courtroom and trial courtrooms and included students from Bartlett, East and West High Schools.
The event featured activities that creatively engaged high school students. Sessions included "MentorJet: A Speed Mentoring Experience" (where students met with diverse lawyers, judges, and justices, including professors from participating law schools, and representatives from Native organizations), "Constitutional Cranium" (a quiz show on Alaska constitutional knowledge featuring actual Alaska supreme court decisions), and a "You be the Judge" session. Volunteer attorneys and judges also coached and oversaw simultaneous mock trials where students had the chance to learn more about the role of judges, prosecutors, defense attorneys and jurors in a mock criminal case.
This amazing outreach program relies on countless volunteers to assist with the various components. Judges and attorneys volunteered as mentors for the MentorJet program, and as coaches during the mock trials. Attorneys from the U.S. Attorney's Office, Attorney General's office, the District Attorneys' office, the Public Defender Agency, the Office of Public Advocacy, the Alaska Bar Association's Law-Related Education Committee, and Anchorage Youth Court volunteered by mentoring students and serving as coaches during the mock trials and Constitutional Cranium.
Color of Justice Video (hosted on YouTube)
Questions? Contact Mara Rabinowitz at 907-264-0879 or Margaret Newman at 907-264-0864.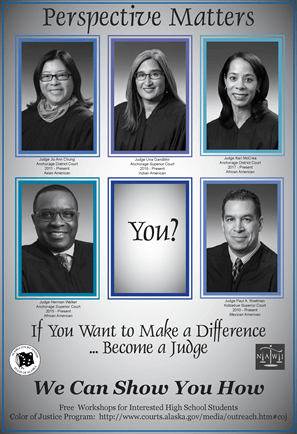 Perspective Poster
Sponsored by:
National Association of Women Judges
Alaska Bar Association
Alaska Court System
Alaska Federation of Natives
Alaska Native Justice Center
Anchorage School District
Cook Inlet Region, Inc.
Council on Legal Education Opportunity
Gonzaga University School of Law
Law School Admission Council
Northwest Indian Bar Association
Perkins Coie LLP
Rotary Club of Anchorage East
Seattle University School of Law
University of Alaska Anchorage
University of Washington School of Law
---
iCivics


Learn about your government…the fun way!
www.icivics.org
Alaska Court System invites Alaska's young people to learn about the rights and responsibilities of citizenship the fun and effective way, through a new online program available for FREE at www.icivics.org. iCivics is a new web-based education project founded by U.S. Supreme Court Justice Sandra Day O'Connor (Ret.) to teach students civics and inspire them to be active participants in our democracy. Alaskan educators and their students are encouraged to visit the website and check out the games, web quests and other great resources for civic learning. If you would like to have a judge or attorney visit your classrooms to present an iCivics activity, please contact the Clerk of Court at the courthouse nearest you or the court's statewide Judicial Outreach Coordinator, Mara Rabinowitz, at 907-264-0879 or mrabinowitz@akcourts.us.
---
"Justice For All" Art Contest
Art contest not held.
---
Law Day, which is celebrated every year on May 1, is a special day focusing on our nation's heritage of liberty under the rule of law. This national day of celebration was officially designated by joint resolution of Congress in 1961. The Law Day 2020 theme is "Your Vote, Your Voice, Our Democracy: The 19th Amendment at 100." In 2019-2020, the United States is commemorating the centennial of the transformative constitutional amendment that guaranteed the right of citizens to vote would not be denied or abridged by the United States or any state on account of sex. American women fought for, and won, the vote through their voice and action.
For more information about Law Day in your community, contact your local clerk of court or the Area Court Administrator of your judicial district. Area Court Administrators are:
1st Judicial District (Southeast): James Kwon, (907) 463-4753
2nd District (Northern): Brodie Kimmel, (907) 443-5216
3rd District (Southcentral): Carol McAllen, (907) 264-0415
4th District (Interior & Southwest): Candice Duncan, (907) 452-9201
For more information about Law Day in general, visit the American Bar Association website at www.lawday.org.
---
Opportunities in Law-Related Education
Each year, the Alaska Court System works with legal organizations and educational groups to foster law-related education in our state. The Alaska Bar Association, the American Bar Association, the Anchorage Bar Association and other groups offer excellent educational programs that help students better understand our legal system and the rights and responsibilities of citizenship. Whether you are an educator, parent or student, we hope you will explore these opportunities for civic engagement and learning, which include iCivics, Supreme Court LIVE, Color of Justice, Law Day, and the Alaska High School Mock Trial Championships.
American Bar Association Division for Public Education
You can check here for updates, or contact Mara Rabinowitz, Communications Counsel, for more information at
mrabinowitz@akcourts.us or 907-264-0879.
---
.
Supreme Court LIVE
Upcoming Programs
Not yet scheduled.
Introduction
In February 2010, the Alaska Supreme Court launched a new educational outreach program, Supreme Court LIVE, to bring oral arguments in actual pending cases to student audiences at Alaskan high schools. Designed to help students better understand our justice system, this unique learning opportunity debuted at West High School in Anchorage on February 19, 2010, before 400 high school students from across the Anchorage School District.
The second Supreme Court LIVE program was held at Juneau-Douglas High School on Constitution Day--September 17, 2010—before 600 students from both JDHS and Thunder Mountain High School. The third program was held February 24, 2011, at West High School in Anchorage before 700 students from seven area high schools. The fourth program was held at Lathrop High School's Hering Auditorium in Fairbanks on February 6, 2012 before high school students from across the Fairbanks area. Two days later, on February 8, 2012, the program returned to West High School in Anchorage for a third time. On October 29, 2012, the court traveled to Sitka and held argument at Mount Edgecumbe High School which was attended by students from both Sitka high schools. The court traveled to Barrow to hold argument on October 3, 2013 before the entire student body of Barrow High School. In February of 2014, the program was held at West High school, and in November of 2014, the court held argument at Ketchikan High School. In its first excursion to the Matanuska-Susitna Valley, the Alaska Supreme Court heard oral argument at Colony High School in Palmer on October 19, 2016.
Keys to the success of the program are the advance visits to classrooms by volunteer attorney teams. Attorneys provide both an overview of the legal system and appellate process and an in-depth review of the specific cases to be heard. As a result, students come to the arguments prepared and engaged, and leave with a good understanding of the process and the issues at stake.
Students from any school may participate through use of the material below and replay of the arguments on KTOO's statewide Gavel to Gavel program. Interested teachers may also obtain recordings of the arguments to play in their classrooms as described below. Schools, teachers or attorneys interested in learning more about the program are encouraged to contact the Clerk of Appellate Courts, Meredith Montgomery.
Educational Materials
General information about the legal system and appellate process
Case Materials
Specific information about the cases argued at Supreme Court LIVE